Maximizing Use of Microsoft Teams in Education
Sep 28, 2022 Read Time: 3 min
Beedle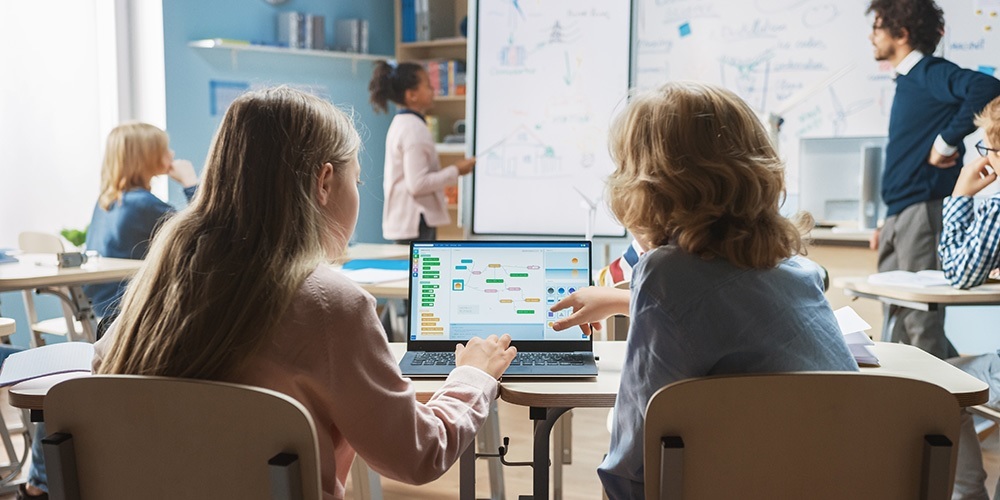 Microsoft Teams in education as a central app for communication and coordination has significantly streamlined the workflow for teachers across the country. It's an intuitive environment that many teachers, administrators, and parents are familiar with. As of 2022, Microsoft Teams has more than 270 million users and is used by more than one million organizations.
Why are so many school districts embracing Teams as the platform of choice?
Maximize Microsoft Teams with Beedle
As a Microsoft Partner and Education Specialist, Beedle provides a wealth of tools that streamline teaching and learning. It simplifies collaboration and class management for planning, teaching, and engaging students in a secure platform that integrates with Microsoft Teams for Education.
Planning tools include:
Flexible lesson plans and sequences
Teams assignments
Shared calendar for scheduling
Ability to link objectives to lessons
Ability to attach and store digital resources
Teaching tools include:
Management of students and student groups
Attendance
Assessing performance against objectives
Collaborating and sharing lessons
Feedback capture
Full integration with Microsoft Assignments
Streamline and Simplify the Workflow
You can streamline the workflow and eliminate multiple third-party software solutions to handle different functions, reducing the administrative burden and learning curve for everyone.
The built-in calendar provides an overview of lessons scheduled throughout the school year, which can easily be copied from one school year to the next.
Journal entries can record and share notes and comments and are taggable for teachers and students.
Grant Parents Greater Access to Information
Parents love how easy it is to check on student progress. The Beedle digital grade book for each class enables teachers to record grades against objectives or record ad-hoc grades as necessary. Parents can also stay up to date on attendance records, assignments and deadlines, and announcements. The Beedle app also enables parents and guardians to conduct secure two-way conversations directly with teachers online.
Get a Comprehensive Platform for Education
Beedle brings together everything that educators, students, and parents need in a comprehensive platform and keeps everything in sync. Not only does it save time and streamline processes, but it also makes communication and collaboration simpler for everyone.
For schools, it brings every class into one unified platform. For school districts, it provides consistency across schools. As students progress through the system and move from school to school, it's simpler for students and parents to stay connected.
Since Beedle is built in Microsoft Teams, you can just add the Beedle app and be ready to go. You can get Beedle up and running in minutes from within your school's Microsoft Teams App Store, with no additional support needed from your IT team. If your school has an Office 365 educational license, you can simply visit the App Store, download, and install Beedle, though you will need administrator approval.
Benefit from Microsoft Teams and Beedle
Combining the power of Microsoft Teams with the functionality that educators, students, and parents want with Beedle produces significant benefits, including the following.
1. Less Paperwork
One of the biggest benefits is reducing paper and moving everything into a digital environment. Not only is this eco-friendly, but it also makes it easier to evaluate and track performance. There are no more lost assignments.
2. Better Communication
Students and parents will always know how students are doing with their assignments and how their performance relates to their overall grades. Students and parents can also communicate directly with teachers securely to foster better collaboration.
3. More Resources
Teachers can add more digital resources or update information with a few clicks. This means students can always have the most current educational tools at their disposal.
4. Time Management
With a unified system and a consistent format, time management is improved for teachers and students. Educators also have the flexibility to design their systems to fit their workflow.
Extend the Functionality of Microsoft Teams for Education
When you add Beedle to Microsoft Teams for Education, teachers can manage all aspects of their work within one app, without ever leaving the Teams environment.
Whether classes are learning in school or remotely or using a hybrid approach, Beedle handles it all and can seamlessly transition from one learning method to another.
Beedle is an all-in-one solution for teaching and learning in Microsoft Teams, giving schools the power to leverage Teams for improved resource and lesson planning, class management, insight organization, and more!
If you're in a Teams district or school and want to unlock the true potential of Microsoft Teams, contact our specialists to maximize the worth of your Microsoft Teams investment today!