The Power of a Microsoft Teams LMS Integration
Apr 19, 2023 Read Time: 3 min
Beedle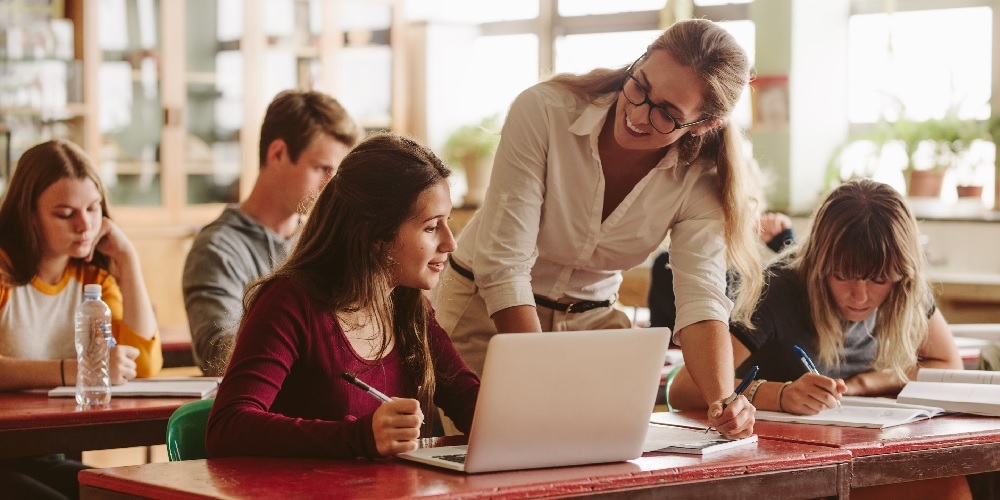 As the education landscape continues to evolve, educators face the challenge of finding new and innovative ways to use technology in their classrooms. With so many tools available, it can be overwhelming for teachers to integrate them into their classroom workflow without taking up too much time or effort.
With Beedle's app integration with Microsoft Teams, you can access all the educational solutions of an LMS from within the Teams interface, making it easier than ever to create a personalized learning environment for your students without having to switch between tools.
This article will discuss how you can benefit from the power of a Microsoft Teams LMS integration with Beedle.
How to Streamline Your Classroom with Beedle
By using Beedle with Microsoft Teams, you can maximize the efficiency of your classroom and ensure that everyone is on the same page. With Beedle's Teams LMS integration, you can easily access your lesson plans, calendar, assignments, and grade book from the Teams interface.
Organize your classroom digitally
As a teacher, you have to do administrative work to keep your classroom running smoothly, and it can be challenging to keep track of all the materials that you need to teach effectively.
With Beedle for Microsoft Teams, you can bring all your digital teaching materials into one place, keeping them organized and easily accessible. It's easy to find what you're looking for, so you can spend more time teaching instead of searching through multiple programs or folders. Beedle also offers seamless video integration, so students can watch lectures or recordings without leaving the Teams platform.
You can organize lesson plans, take attendance, give feedback, and collaborate with colleagues, all within the Microsoft Teams interface. Beedle streamlines your classroom workflow so you can save time and be more productive in the classroom.
Share classroom news with parents
Beedle for Microsoft Teams gives you an easy way to keep parents informed and involved in their child's education. Quickly share updates on class activities, special events, and more with parents using the Beedle Parent App.
The app enables parents/guardians to stay up to date on their child's grades, attendance, and assignments. They can view upcoming or missed assignments, get grades and feedback from teachers, read student notes from the teacher's journal, report absences, and view attendance records, all in one place. This helps them stay informed on their child's progress and helps you save time by having a one-stop shop for parent communication.
For example, if you have an upcoming field trip or school event, you can easily send a notification to all students' parents in your class. This is a great way to keep everyone in the loop and increase parent engagement.
Simplify your lesson planning
Lesson planning is one of the most time-consuming tasks for teachers. From sourcing materials to organizing activities, many tasks must be completed to create a successful and engaging lesson.
Beedle Planning simplifies your lesson planning by making it easier to gather resources and materials for your lessons. You can save time by reusing lesson plans, assignments, and resources from past classes and creating templates for commonly used documents.
Create assignments without starting from scratch, and easily find and use templates that you've made before. You can also copy lessons from class to class and year to year, so you can reuse proven lessons and easily make necessary changes.
Use the shared calendar within Beedle to plan and schedule your lessons. You can shift from the calendar to your class lesson plans, learning objectives, and assignments. Quickly add lessons to the calendar, assign deadlines, and view your entire school year in one place.
Track student progress and engagement
With large class sizes, it's hard to provide personalized attention and feedback to every student. This can lead to students feeling disengaged or unmotivated, which can negatively impact their learning outcomes.
By using the Beedle app in Microsoft Teams, you can easily track student progress and engagement. See which students are actively participating in class, and watch for any signs that a student may be struggling or falling behind. You can also view comprehensive data on student progress, such as grades and attendance records.
With the teacher's Journal feature, you can create and store notes on individual student behavior, academic performance, and other comments. This enables you to provide personalized feedback that can help motivate and encourage your students.
Beedle Teams LMS Integration
Beedle for Microsoft Teams is an excellent tool for streamlining your classroom and making it easier to stay organized. You can easily integrate the Beedle app into your Teams platform without a painful LMS integration.
If you're looking for an easy way to streamline your classroom workflow and maximize efficiency, a Beedle Teams LMS integration is the perfect solution. The Beedle app enables you to access lesson plans, assignments, and teaching resources directly from Teams without having to switch back and forth between multiple platforms. This simplifies your workflow and saves time so you can focus on teaching.
Beedle is an all-in-one solution for teaching and learning in Microsoft Teams, giving schools the power to leverage Teams for improved resource and lesson planning, class management, insight organization, and more!

If you're in a Teams district or school and want to unlock the true potential of Microsoft Teams, contact our specialists to maximize the worth of your Microsoft Teams investment today!